Is this You?


You want to grow in holiness and get spiritually fit for battle but you don't know where to start.
You want consistent guidance and answers to questions about living out the Commandments and the Church's teachings with fervor.
Your marriage is struggling or you are simply wanting to dive deeper into your Faith as a couple.
You want to raise children to be BATTLE READY, but you don't know where to begin.
You are driven to be BATTLE READY but lack the support, accountability, and encouragement you need to keep fighting the good fight.
You want to be a BATTLE READY soldier for Christ by physically preparing for battle.
You long for a community of like-minded, Catholic warriors so you know you aren't alone in the fight.


You want to take care of your body as a temple of the Holy Spirit but need direction and encouragement.
What our Members Have to Say...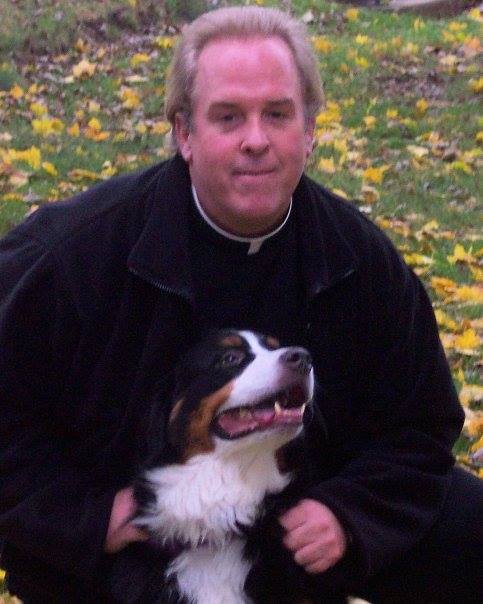 We continue to "train up" as mighty supernatural warriors. We are so blessed to have my good friend, Doug Barry, share his decades of experience in becoming "Battle Ready." Doug, along with his entire family, have poured themselves into preparing the best of the best in getting us all united in our training through this "Battle Ready Coalition." Please consider this most excellent training ground. - Father Rick Heilman
BATTLE READY COALITION OFFICIAL TRAILER

WE HAVE THE ANSWER.
IT'S TIME FOR ACTION.
WHAT DO YOU GET?


Through a combination of
monthly video trainings, live coaching, video courses, worksheets, manuals, community, support, and accountability
, you'll have everything you need to progress - BODY, MIND, and SOUL.
​
This is an experience like never before that teaches you how to:​
-Lead yourself and your family spiritually so you are equipped for spiritual warfare
-Pray and Sacrifice for the good of your soul and the souls of those entrusted to your care
-Take care of your body, a Temple of the Holy Spirit, through basic nutrition, exercise, and self-defense
-Strengthen your Marriage to be Battle Ready and rooted in Christ


-Raise and Encourage your children to be Battle Ready - body, mind, and soul
-Physically prepare for whatever may come in the future
-And much more!
This way, you can focus on implementing and taking action by letting us provide you the information, tools, resources, and support you need.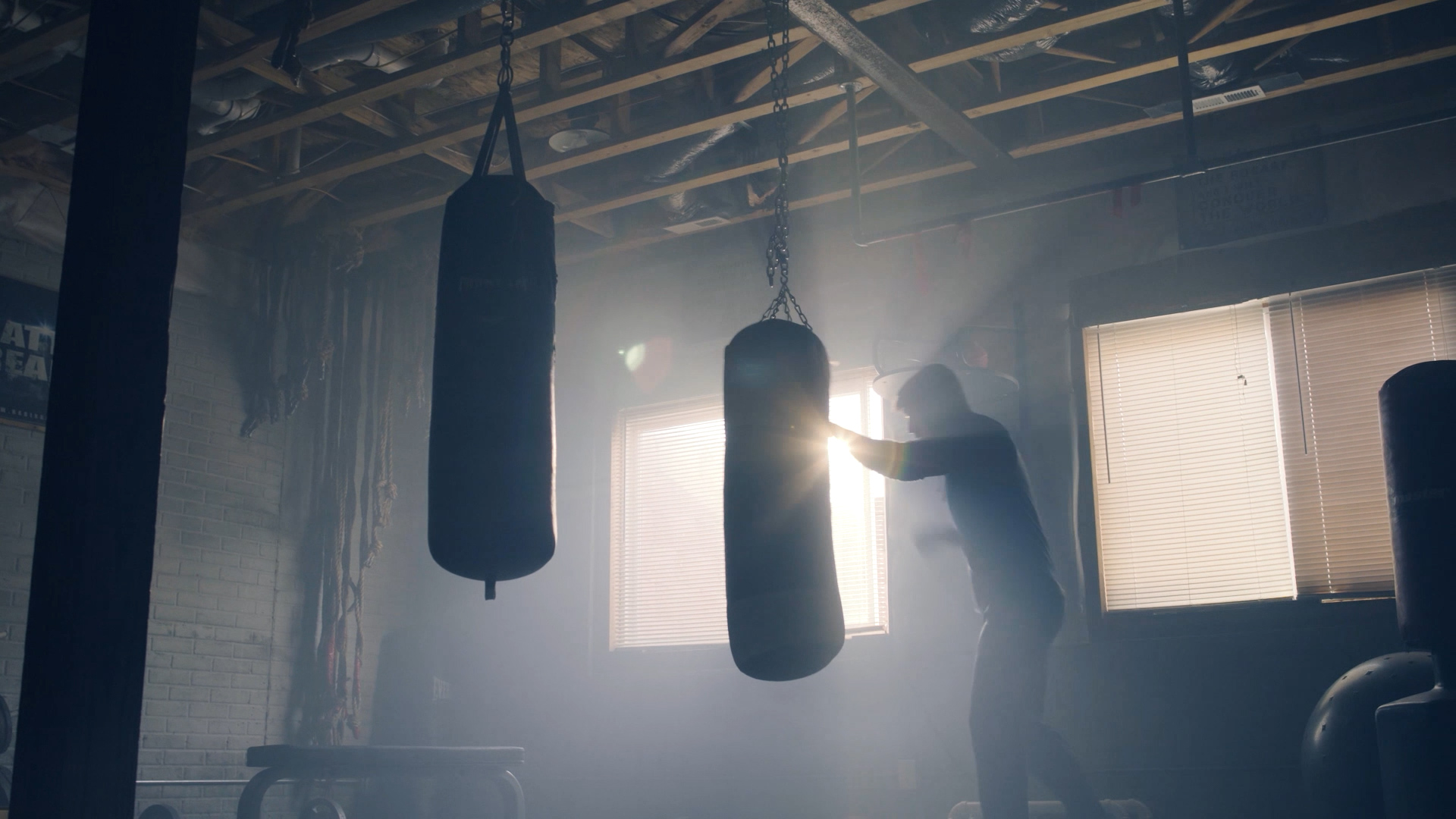 B O D Y
Learn how to physically become BATTLE READY and what the Church teaches on self defense and physically preparing for battle.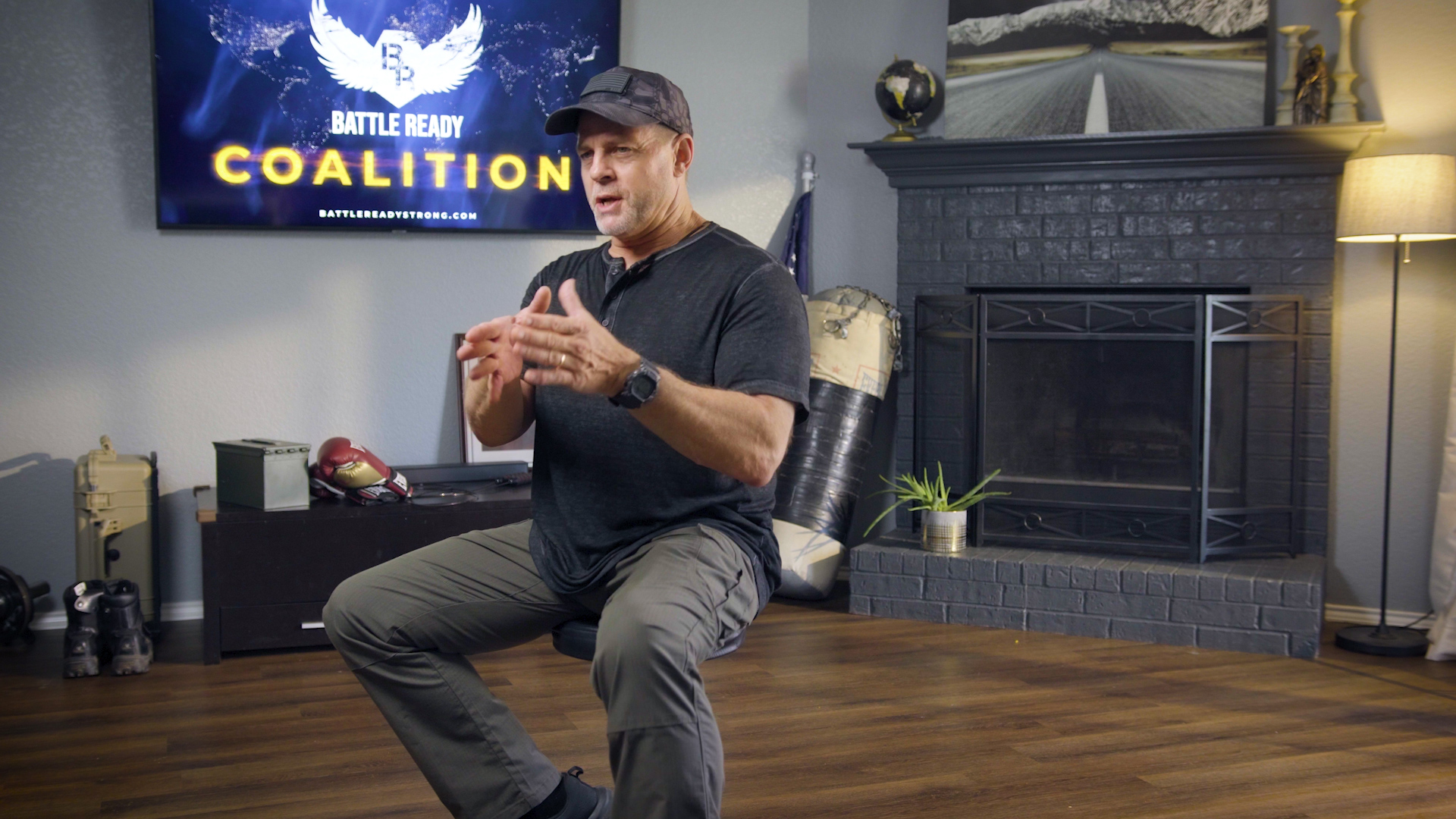 M I N D
Become BATTLE READY with mental toughness and clarity. Learn how to be courageous and confident in proclaiming your Faith through prayer and action.
S O U L
Transform your Soul to be Spiritually fit and BATTLE READY through prayer, fasting, and the Sacraments.
T E S T I M O N I A L S
FROM OUR MEMBERS
"By joining the BATTLE READY Coalition I have found there are others navigating the same journey to become more closely connected to and understanding our Catholic faith.  Join us--you won't regret it." - Patrice
__________________________
"You are like the Bruce Willis of the Catholic world."
- John
__________________________
"Your enthusiasm is exhilarating!!! We need more role models like you, Bless you."
- Tessa
__________________________
"By joining the BATTLE READY Coalition I have obeyed the Lord's command to act on His Word, to be doers of His Word and not hearers only, to be a SOLDIER FOR CHRIST and move forward in the armor He has clothed me with, forward on the battlefield where we are already on the front-lines of the battle." - Margaret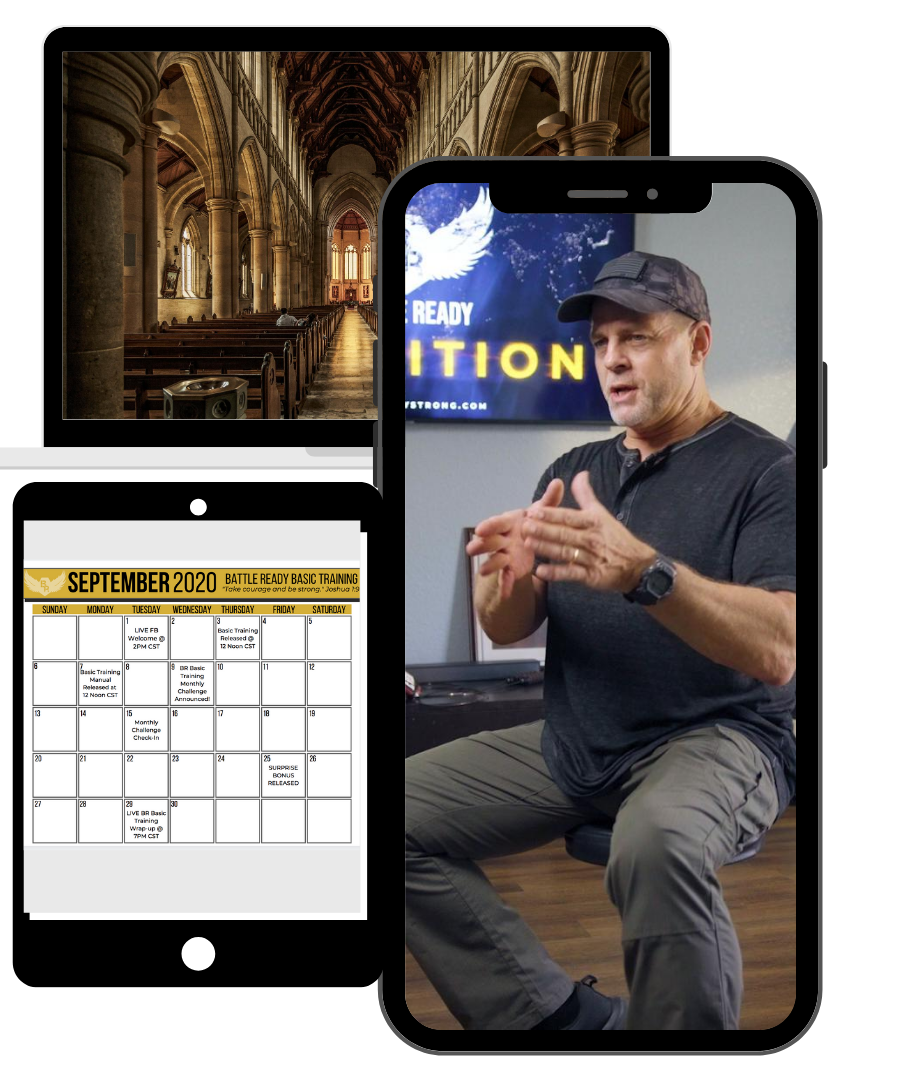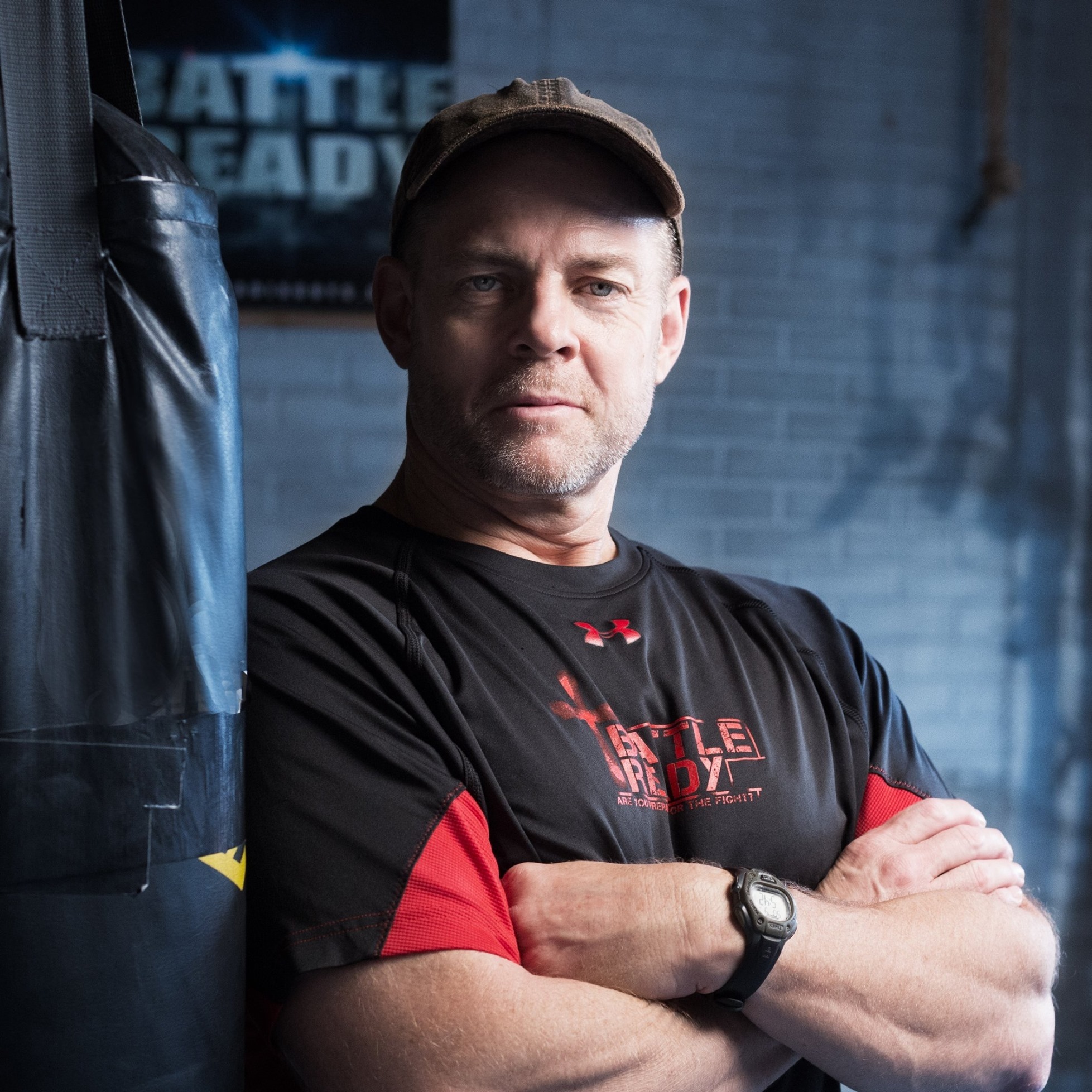 Doug Barry is a devoted husband, father, and founder of BATTLE READY, a Catholic apostolate that focuses on encouraging and strengthening men, women and youth to be better prepared to fight the battles that we all face in the world today, body, mind and soul. Since 1992 he has traveled both nationally and internationally, speaking to young and old alike through television, radio, and live appearances. 
Doug is probably known best for his one-man drama of 'The Passion' which began in 1992 and has been performed live around the world, and aired on EWTN the Global Catholic Network. For many years Doug was the co-host of EWTN's 'Life on the Rock' and now currently hosts the television show BATTLE READY, also aired on EWTN.  
Doug still travels around the world, offering his services as a speaker for a variety of events, retreats, conferences, parish missions and more.​
The BATTLE READY COALITION is the newest venture of the Battle Ready Ministry. Doug wants to reach as many families as possible to be better prepared for spiritual warfare.
Who's This For?
The Coalition is for men and women, young and not as young, married or single.
If you are ready to become BATTLE READY for Christ, this is for you.
The content will help you no matter your role or vocation and will help you to live out that role and vocation.
FREQUENTLY ASKED QUESTIONS
Why a membership?
This is the best way for me to serve as many people as I can, on a monthly basis so we can strengthen an army for Christ that is truly BATTLE READY - Body, Mind, and Soul.
$24/month per person or per family?
$24/month is per household. If you and your spouse are hoping to join, we encourage you both to join the community and be active members inside the membership for the $24/month.
​Can I mail a check or pay over the phone?
Yes you can. You will need to make the check out to RADIX/BATTLE READY and send it to:
P.O. Box 7275
Tyler TX 75711
We ask that you have it in the mail (postmarked) by the 20th of each month and include what email you would like us to send the content to.
How long do I have access?
You'll have access to each month's content as long as you are still subscribed.
Can I cancel anytime?
Yes. There are no contracts of any sort.
Where will the content be held?
The content will be inside this Teachable platform with a private community as well.
What if I can't keep up? Will I be overwhelmed?
We are designing this to be very easy to consume. You are busy and we want you to be able to progress each month. Overwhelmed? No. But definitely challenged.
Bashing Church leaders? Current Events? Politics?
While the content will always be relevant to our specific challenges and times today, this membership will not be bashing Church leaders or be another news source. It will be specific, tactical knowledge and support to becoming BATTLE READY for Christ - body, mind, and soul. We want each member to become the most prepared soldier for Christ possible.
When can I join?
We only open the doors a few times per year so be sure to join the waitlist so you don't miss your next chance to sign up!
Will there be a place to ask questions inside the membership?
Yes! We want this to be a very personalized experience for you. You will always have access to the team and I for questions.
Can this be for parishes as well?
We would love for as many families to join the Coalition as possible, however we are catering this to individual households as it is focused on personal growth. So while it is not designed or intended for parish wide use we do encourage you to let as many people as possible know about the BATTLE READY Coalition.​
​Can I purchase a membership for someone else, too?
Yes, when you go to checkout, just put in the email of the person you would like to gift it to so they will receive the login information. Or, you can also email the BATTLE READY Team at [email protected] and they will assist you in gifting a membership as well.